A New Method to Revolutionize Fibre Optic Cable Network Construction
If fibre networks were built by way of micro-trenching, the construction works on your own home street would progress faster and require less digging. Could the new method for quick telecommunications network construction become common in Finland as well?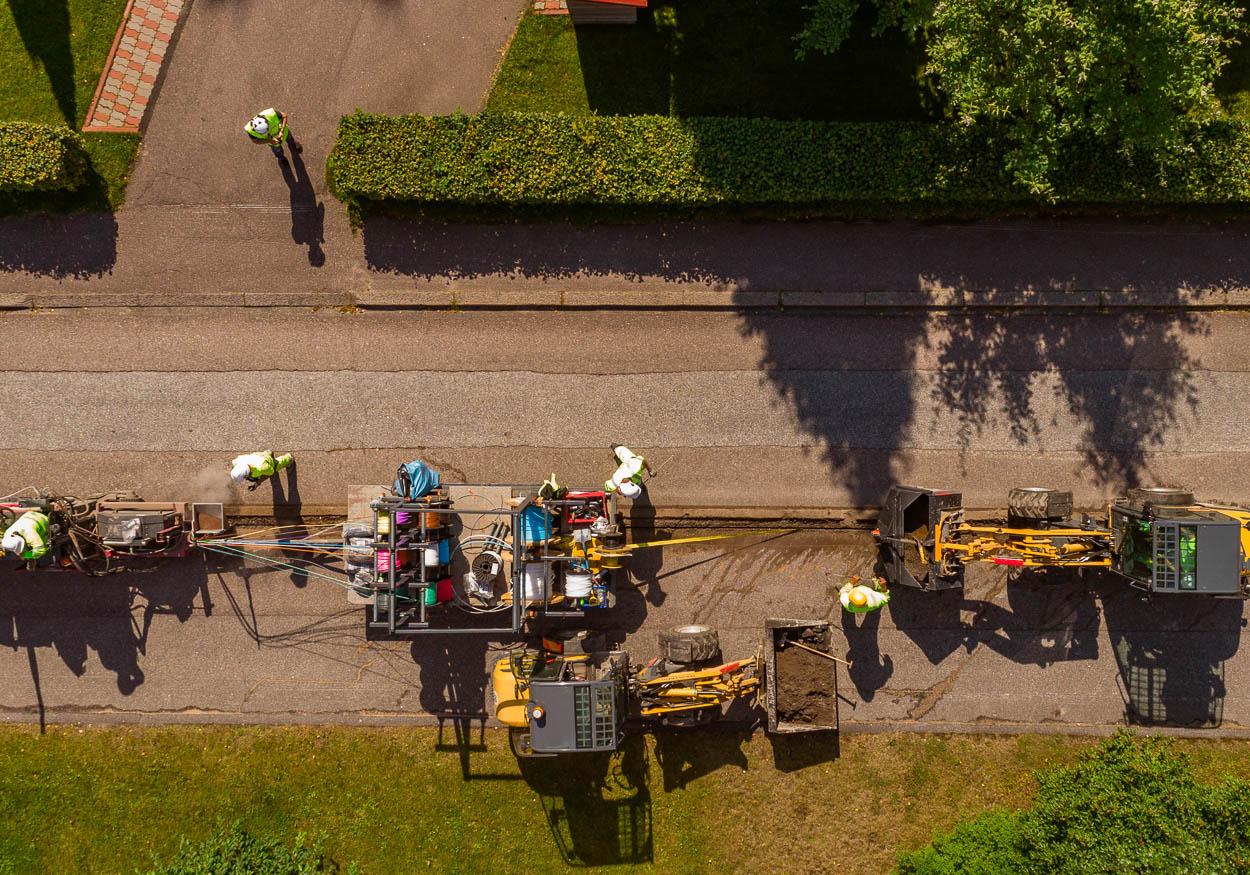 This fibre optic cable work site is free of rumbling excavators. Instead, at the Elontie Street in Länsi-Pakila, the buzzing of a custom-made machine's diamond blades can be heard, which cut an approximately 2 centimetres wide and 40 centimetres deep groove into the asphalt. It is followed by a machine installing the fibre cables into the ground. Only a narrow groove remains in the asphalt for patching.
Telia is currently building a fibre optic cable network in the Länsi-Pakila neighbourhood of Helsinki, which will make Open Fibre connections available to the residents of detached houses in the area. Telia and Empower, the contractor, are testing a new building method called micro-trenching at the work site. Fibre cables are installed into a narrow diamond-cut groove.
"The cables are installed to the depth of about 40 centimetres, which is slightly closer to the ground surface as compared to traditional methods. This way, fibre optic cable installation can be even three times faster as compared to traditional excavation and the work site takes up less space", says Pekka Piuva of the Telia Network Development Unit.
As compared to excavation, micro-trenching is also a more environmentally friendly way of construction: for the narrow groove, moving of large soil amounts is not required and less asphalt is consumed.
"In addition, in Finland, extensive excavation works can only be carried out in summer, while micro-trenching is also possible in winter", Piuva continues.
Cut the groove, install the cable, and close the groove – done. If this is so easy, why are not all fibre optic cable networks built cleverly by micro-trenching?
Common in Sweden, but not in Finland
For the time being, telecommunication networks cannot be built by micro-trenching.
"We have two approved techniques for copper network reconstruction, digging and ploughing", says Pekka Piuva.
The micro-trenching technology was developed in Sweden. In our neighbouring country, fibre optic cable networks have been built so extensively that fibre optic connections are standard even in detached houses. In Sweden, the fibre optic cable networks in detached house areas are generally built using micro-trenching.
In Finland, municipalities responsible for road surface reconstruction and renovation are not yet enthusiastic about micro-trenching. Among the reasons for this are municipal regulations requiring that cables be installed deeper than to the depth of 40 centimetres.
However, Pekka Piuva hopes that micro-trenching will soon be commonly used in Finland as well. Thus, the test in Länsi-Pakila should serve as an encouraging example.
"We need a positive attitude among municipality decision-makers and licencing authorities towards fibre optic cable installation. Naturally, smoother construction works would be beneficial for the residents as well."
The micro-trenching technology was developed in Sweden, where fibre optic cable networks in detached house areas are generally built this way.
Text: Ellariina Rautio and Hanna Tohtua
Photos: Empower Oy