Kauniainen is a Pioneer in Open Fibre Construction
Kauniainen is the first town in Finland where fibre optic cable network is being built using the new micro-trenching technique. With this method, fibre optic cables are installed into a narrow groove cut into the asphalt. The installation rate is up to 400 metres per day.
This summer, the project currently in progress will connect some 150 households in Kauniainen to a fibre optic network.
"Kauniainen is a pioneer in utilizing this new method", says Sanna Mutka, Telia, Open Fibre Business Manager.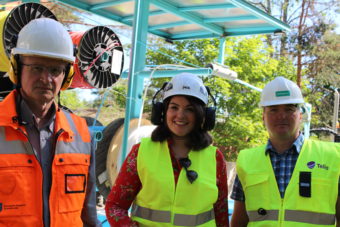 Veli Keski-Kohtamäki, the Maintenance Supervisor of Kauniainen, says that micro-trenching is a good innovation for the town, since the quick method reduces the impact of construction works on the residents.
"From the viewpoint of the streets, the benefit is that finishing works are facilitated."
Jukka Huhtanen, who is responsible for the construction works at Telia, points out that the method also reduces environmental load. Less heavy machinery is required at the work site; less asphalt is consumed, etc.
"Normally, the excavation depth is 70cm and width 40cm", he states.
In practice, micro-trenching means installation of fibre optic cables into an approximately 40cm deep diamond-cut groove. The groove width is about 2cm.
Over the last couple of years, Telia has been developing its Open Fibre model. Based on this model, Telia invests in network construction if a sufficiently large group of residents in the area commits to obtaining a fibre optic cable connection. After completion of the construction works, the consumers can decide in favour of any service provider offering its services via the network. Not all operators offer such a service. At present, there are four service providers offering their services over the network.
In Kauniainen, the investment per household amounts to about €2,000-3,000.
"If a single household were to acquire a fibre optic connection, the price would be tens of thousands of euros. If several households within an area join at once, obtaining fibre optic connection becomes less expensive for the area. At the beginning of this year, the sales price at Kauniainen has been approx. €2.500", Sanna Mutka says.
Empower served as the contractor in Kauniainen.
Text: Jan Snellman
Photo: Jan Snellman